The Star-Spangled-Banner
Star-Spangled Banner
Let's celebrate the birthday of the U.S. national anthem!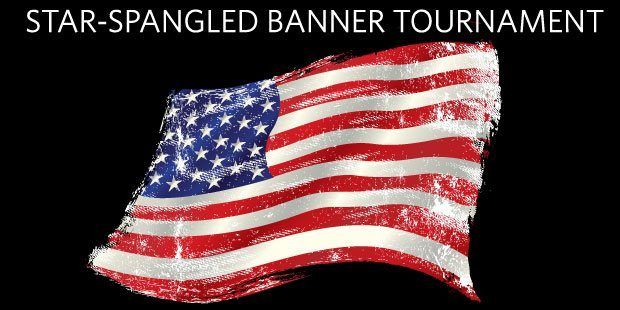 During the British-American War from 1812 to 1815, Francis Scott Key wrote the anthem for that fledgling nation while Fort McHenry was under assault by British forces. He himself was in the bay on a military vessel, and saw the entire assault happen. It is from these events that some of the key imagery in the song originated.
His text was adapted to the tune of the popular song "To Anacreon in Heaven." The song with Key's lyrics became known as "The Star-Spangled Banner," and slowly gained in popularity as an unofficial anthem over the years, finally achieving official status a century later. On March 3, 1931, President Herbert Hoover signed a congressional resolution officially making "The Star Spangled Banner" the national anthem of the United States of America.
Tournament Details:
Star-Spangled Banner satellites
Tuesday & Wednesday, March 2nd & 3rd
starting times in Eastern:
9:15 am / 11:15 am / 1:15 pm / 3:15 pm / 5:15 pm
Tickets: $0.90 + $0.09 (buy-in + fee)
Late reg: 60 min
Star-Spangled Banner $1,500 GTD
Wednesday, March 3rd, at 7:15 pm ET
buy-in: $20 + $2
Late reg: 90 min
To take part just DOWNLOAD the poker software or use our INSTANT PLAY app!