The Festival in Bratislava
The Festival in Bratislava Round 2
Are you ready to attend another live poker event!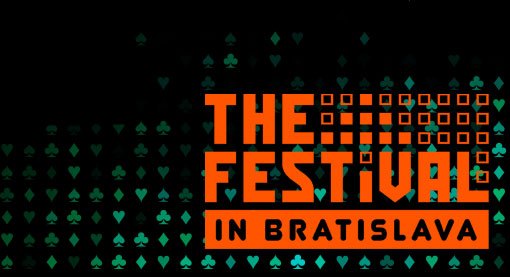 Win a trip to Bratislava, the capital of Slovakia, this October and play the main event for your share of the €500,000 guaranteed prize money.
Besides playing the main event and trying to score big, there will be a wide variety of other poker tournaments, including Deepstack side events, Pot Limit Omaha, 8-Game, Progressive Knockout, and of course 24/7 Cash Games!

Play our satellites and win a fully-paid poker package to The Festival Bratislava 2022!

Your poker package is worth more than €2,500 (about $2,600*) and includes:

€550 buy-in to the main event
7-night stay for two in a twin room at the Crowne Plaza Hotel, Bratislava (October 10th to 17th)
$500 to help with travel expenses
1x buy-in to the Blackjack tournament
2x hospitality packages
In addition to the accommodation and buy-in to the main event, you will receive the buy-in to the Blackjack tournament and a hospitality package for you and your companion.
The Festival Bratislava is exclusively tailored towards leisure players. Have a good time with friends, make new friends and have the perfect poker holiday.
Don't miss out on this amazing opportunity and win your live poker package!

Satellites:
To register, open the Juicy Stakes lobby, click 'Poker' > 'Tournaments' > 'Events'> 'The Festival Bratislava - Satellite'
The Bratislava Festival $8+$0.80
1 ticket for The Bratislava Festival Final guaranteed!*
starting with August 8th
The Bratislava Festival $10+$1
2 tickets for the The Bratislava Festival Final guaranteed!*
starting with August 21st
The Bratislava Festival Final $150+$14
$2,500 Prize Package guaranteed!
Sunday, August 21st
7 pm CEST / 1 pm Eastern
Bratislava - Slovakia
Bratislava, also referred to as the Beauty on the Danube, is the capital city of Slovakia. In spite of its exciting history, Bratislava is one of the youngest capitals of the world. The modern metropolis is situated in southwestern Slovakia and its location on the borders with Austria and Hungary makes it the only national capital that borders two other countries. It is only 18 kilometers (11.2 mi) from the border with Hungary and only 60 kilometers (37.3 mi) from the Austrian capital, Vienna.
Lively wine cellars, eventful history and lots of culture - Bratislava is full of surprises and is the perfect destination for a city trip. The inner city of Bratislava, divided by the Danube, appears in the style of a typical Mediterranean old town. Many small alleys form a labyrinth between old churches and glamorous city villas, which basically represents one huge pedestrian zone. Don't miss your chance to visit an exciting city that has a lot to offer for every taste!

Terms and Conditions:
Players must be 18 years of age to participate.
Employees and immediate family members of employees of Juicy Stakes, the Horizon Poker Network and its associated companies are not eligible to take part in the Promotion.
Juicy Stakes Poker reserves the right to alter, modify or terminate the Promotion and/or these Terms at any time, without notice (written or verbal) where it is reasonable to do so or for reasons beyond the Promoter's control. The Promoter does not accept any responsibility or liability for any late or undelivered entries or registrations, notifications or communications or for any form of technical failure, error, malfunction or difficultly or for any other event beyond its reasonable control that may cause the operation of the promotion to be disrupted, unavailable or incorrect.
The Bratislava Festival promotion guarantees that at least 1 x €2,500 prize package will be awarded. (*The USD value shown is based on the current exchange rate. We can't guarantee the USD value due to the high volatility that we are experiencing at the moment.)
The above-mentioned value of the live poker package is estimated and subject to change. Any discrepancy between Main Event entry fee, accommodation and package value will not be paid out.
Players may not transfer, sell or award their Juicy StakesThe Bratislava Festival Live event prize package to anyone else.
The Bratislava Festival Live prize packages are a 'must play' and are non-transferable and non-redeemable for cash value. There is no cash alternative for the live tournament package.
Juicy Stakes Poker is responsible for accommodation payment and arrangements at the hotel.
Hotels and room types are allocated on a first-come-first-served basis. Once a certain hotel or room type is sold out we will allocate the next-best hotel and room available.
There will be no cash credited should a player not need accommodation for a live event.
Players are responsible for their own travel arrangements.
Juicy Stakes Poker agrees to pay $500 USD to the winner's Juicy Stakes' player account upon receiving documents verifying/confirming the booking and payment of travel.
Winning players on Juicy Stakes agree to the Terms and Conditions of the The Bratislava Festival Live Event.
Players agree to wear Juicy Stakes Poker apparel during their The Bratislava Festival Live poker table time, including any televised appearances, when applicable in the event.
Players are responsible for gathering necessary travel information regarding COVID-19 rules and regulations before attending the The Bratislava Festival event.
Players are responsible for their own safety with regard to COVID-19 if they are not yet fully vaccinated.
Juicy Stakes Poker cannot be held responsible should a player fall ill as a result of participating in the live tournament.
Juicy Stakes Poker will pay the buy-in to the winning player, in case the The Bratislava Festival event gets cancelled due to updated COVID-19 regulations and not be rescheduled.
Juicy Stakes Poker management decisions are final.