Poker Welcome Bonus
Get your 200% Poker Welcome Bonus!
Depositing for the first time at Juicy Stakes is a very rewarding experience because you'll see that deposit tripled!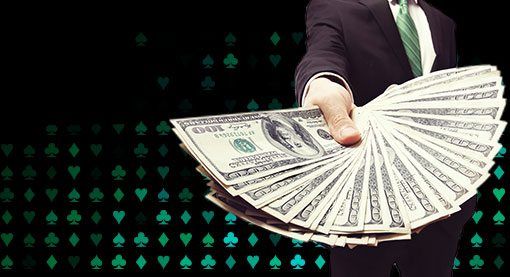 Where does it come from?
You get 200% First Deposit Bonus up to $1000. This bonus is only available on the first deposit made, so be sure to take full advantage of it.
The maximum a player may receive through this bonus is $1000. After you have made your deposit, click the Bonus Code button, enter 1000JUICY and click the Redeem Bonus button.
Where can I see my bonus?
While logged on to Juicy Stakes you can view your bonus details, along with all your real money account details, via the Cashier tab. All bonus funds are listed under the Pending Bonus section of your account.
How do I earn my bonus funds?
Pending Bonus funds are earned in $5 increments based on Frequently Player Points (FPPs) accumulated through real-money ring or tournament game-play. When viewing your Pending Bonus within the Cashier tab, you'll find an FPP amount listed under the dollar amount. Those are the FPPs needed to earn your next $5. Players need to collect 83.335 FPP for every $5 increment. The minimum deposit required is $25 unless otherwise stated.
How do I earn Frequent Player Points?
When you are dealt cards at any real-money ring game, you'll earn 1 FPP for every dollar raked. In tournament play, you'll earn 7 FPPs per dollar in tournament fees paid. At Juicy Stakes Poker, we believe a penny played should be a penny earned, so we're accurate down to the penny when it comes to FPPs. For example, if your table raked $1.25, you'll earn 1.25 FPPs.
Ring Games: $1 Rake = 1 FPP
Tournaments: $1 Fee = 7 FPP
Do bonus funds expire?
You will have 90 days, dated from the posting of your Pending Bonus funds to your account, to earn them out to your available balance. If you are currently earning a bonus and have the opportunity to receive another bonus (like a reload bonus), you will need to earn out your first current pending bonus before you can begin to earn your new bonus. Please note that the expiration date on your new bonus will be set from the day you made the deposit and not on the day that you actually begin to earn out the new bonus.