European Poker Championship
European Poker Championship 2022
EPC Velden Round 3! Part of our LIVE EVENT FRENZY!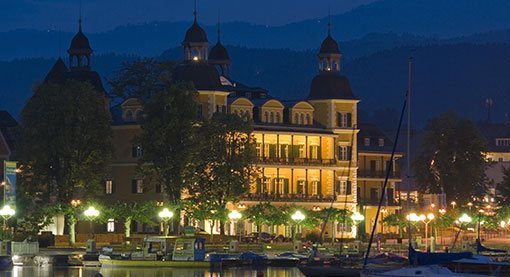 Velden, Austria is the place to be for us every summer during the European Poker Championship 2022. Over the period of 12 days, the small village of Velden is bursting at the seams. Known as a summer health resort, Velden is transformed into a mecca for poker players, attracting over 15,000 people in 2018 during the EPC alone.
You can look forward to playing poker almost lakeside in an exclusive atmosphere with thrilling tournaments and cash games on more than 40 tables.
Join us there from July 19th to 24th and grab your share of the prize money!
Play our satellites and win a fully-paid poker package to the European Poker Championship 2022!
Your poker package is worth more than $5,200 and includes:
€2,700 (about $2,900) buy-in to the main event (July 20th to 23th)
5-night stay for two at a premium hotel close to the Casino (July 19th to 24th)
$500 to help with travel expenses
Welcome Dinner with the Juicy Stakes Poker crew

Satellites:
To register, open the Juicy Stakes lobby, click 'Poker' > 'Tournaments' > 'Events'> 'LIVE EVENT FRENZY Satellite'
Live Event Frenzy Step 1 - $1+$0.10
1 ticket for Live Event Frenzy Step 2 guaranteed!
Sstarting on May 16th
Live Event Frenzy Step 2 - $15+$1.50
1 ticket for the Live Event Frenzy Final guaranteed!
Starting May 16th
Live Event Frenzy Final - $150+$14
$5,200 Prize Package guaranteed!
Sunday, May 29th
2:00pm EDT

*PLEASE NOTE: Players will need to register themselves for the following step satellite or Final!

*With our Live Event Frenzy satellites you can choose which of our finals, the Vegas Milli Maker or the EPC Velden, you want to play!

Terms and Conditions:
Players must be 18 years of age to participate.
Employees and immediate family members of employees of Juicy Stakes, the Horizon Poker Network and its associated companies are not eligible to take part in the Promotion.
Juicy Stakes Poker reserves the right to alter, modify or terminate the Promotion and/or these Terms at any time, without notice (written or verbal) where it is reasonable to do so or for reasons beyond the Promoter's control. The Promoter does not accept any responsibility or liability for any late or undelivered entries or registrations, notifications or communications or for any form of technical failure, error, malfunction or difficultly or for any other event beyond its reasonable control that may cause the operation of the promotion to be disrupted, unavailable or incorrect.
The EPC Velden promotion guarantees that at least 1 x $6,500 USD prize packages will be awarded.
Players may not transfer, sell or award their Juicy Stakes EPC Velden Live event prize package to anyone else.
EPC Velden Live prize packages are a 'must play' and are non-transferable and non-redeemable for cash value.
Juicy Stakes Poker is responsible for accommodation payment and arrangements at the hotel.
Players are responsible for their own travel arrangements.
Juicy Stakes Poker agrees to pay $500 USD to the winner's Juicy Stakes' player account upon receiving documents verifying/confirming the booking and payment of travel.
Winning players on Juicy Stakes agree to the Terms and Conditions of the EPC Velden Live Event.
Players agree to wear Juicy Stakes Poker apparel during their EPC Velden Live poker table time, including any televised appearances, when applicable in the event.
Juicy Stakes Poker management decisions are final.