ESPT Barcelona
ESPT Barcelona Round 2
Join the Juicy Stakes team in one of the most visited cities in Europe and take part in the Estrellas Poker Tour main event!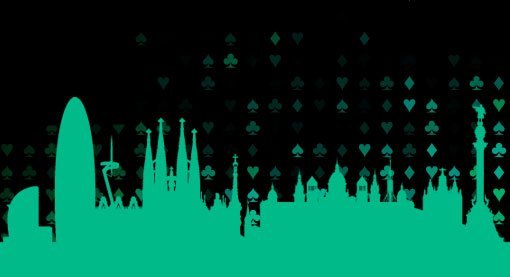 The EPT Barcelona event used to be one of the biggest and most successful live-poker events of the European Poker Tour. After a two-year hiatus the EPT is back in this beautiful, vibrant city and takes place from August 10th to 21st, including High Roller and Super High Roller tournaments.
As one of our package winners, you will take part in the Estrella Poker Tour main event, which kicks off this packed tour stop. You can choose which day you want to start, either on August 10th (Flights C & D) or August 11th (Flights E & F), the final will be played on Sunday, August 14th.

Play our satellites and win a fully-paid poker package to the ESPT main event 2022! 
Besides the buy-in, you will have a double room booked at a premium hotel close to the Casino, from August 9th to 15th. Additionally, you will receive some exclusive poker merchandize to proudly represent Everygame Poker.

In your poker-free time you can discover the city, relax at the beach or enjoy the slots, i-tables and sports betting offers at the Casino Barcelona.
Your poker package is worth more than $3,500 and includes:
€1,100 buy-in to the main event (August 10th to 14th)
6-night stay for two at a premium hotel close to the Casino (August 9th to 15th)
$500 to help with travel expenses
exclusive poker gear

Round 2 Satellites:
To register, open the Juicy Stakes lobby, click 'Poker' > 'Tournaments' > 'Events'> 'ESPT Barcelona Satellite'
ESPT Barcelona - Step 1
$0.50+$0.05
1 ticket for ESPT Barcelona Step 2 guaranteed!*
starting with July 6th
ESPT Barcelona - Step 2
$10+$$1
1 ticket for the ESPT Barcelona Final guaranteed!*
starting with July 6th
ESPT Barcelona Final $150+$14
$3,500 Prize Package guaranteed!
Sunday, July 17th
9 pm CEST / 3 pm Eastern
Barcelona, capital of Catalonia
Founded as a Roman city, Barcelona has become the second largest city in Spain with a population of about 1.6 million. Known as a major cultural, economic and financial centre in southwestern Europe, Barcelona is home to some of Europe's most famous attractions, including the Sagrada Familia, Mount Tibidabo, Montserrat, Las Ramblas and Gaudi's creations – and of course the vibrant city beach.
If you really want to experience this amazing city then we recommend you add a few more vacation days to your poker trip. You will find something for everybody. From visiting Camp Nou, the home of the famous soccer club FC Barcelona, to enjoying the 800-year-old La Boqueria food market, from the delicious Catalan cooking, to spending some time at Gaudi's masterpieces at Parc Guell - this city has a lot to offer!

Terms and Conditions:
Players must be 18 years of age to participate.
Employees and immediate family members of employees of Juicy Stakes, the Horizon Poker Network and its associated companies are not eligible to take part in the Promotion.
Juicy Stakes Poker reserves the right to alter, modify or terminate the Promotion and/or these Terms at any time, without notice (written or verbal) where it is reasonable to do so or for reasons beyond the Promoter's control. The Promoter does not accept any responsibility or liability for any late or undelivered entries or registrations, notifications or communications or for any form of technical failure, error, malfunction or difficultly or for any other event beyond its reasonable control that may cause the operation of the promotion to be disrupted, unavailable or incorrect.
The ESPT Barcelona promotion guarantees that at least 1 x $3,500 USD prize packages will be awarded.
The above-mentioned value of the live poker package is estimated and subject to change. Any discrepancy between Main Event entry fee, accommodation and package value will not be paid out.
Players may not transfer, sell or award their Juicy Stakes ESPT Barcelona Live event prize package to anyone else.
The ESPT Barcelona Live prize packages are a 'must play' and are non-transferable and non-redeemable for cash value. There is no cash alternative for the live tournament package.
Juicy Stakes Poker is responsible for accommodation payment and arrangements at the hotel.
Hotels and room types are allocated on a first-come-first-served basis. Once a certain hotel or room type is sold out we will allocate the next-best hotel and room available.
There will be no cash credited should a player not need accommodation for a live event.
Players are responsible for their own travel arrangements.
Juicy Stakes Poker agrees to pay $500 USD to the winner's Juicy Stakes ' player account upon receiving documents verifying/confirming the booking and payment of travel.
Winning players on Juicy Stakes agree to the Terms and Conditions of the ESPT Barcelona Live Event.
Players agree to wear Juicy Stakes Poker apparel during their ESPT Barcelona Live poker table time, including any televised appearances, when applicable in the event.
Players are responsible for gathering necessary travel information regarding COVID-19 rules and regulations before attending the ESPT Barcelona event.
Players are responsible for their own safety with regard to COVID-19 if they are not yet fully vaccinated.
Juicy Stakes Poker cannot be held responsible should a player fall ill as a result of participating in the live tournament.
Juicy Stakes Poker will pay the buy-in to the winning player, in case the ESPT Barcelona event gets cancelled due to updated COVID-19 regulations and not be rescheduled.
Juicy Stakes Poker management decisions are final.