Beatlemania
Beatlemania
10 tournaments with $1,000 GTD each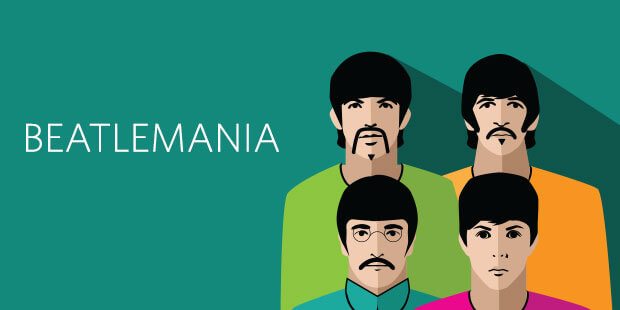 1964 was the year when the USA fell in love with the British rock band The Beatles and it marked a milestone. Never before had a singer or band 10 hits the Billboard's Hot 100. And the records just kept coming for the Beatles in that year thanks to their US fan base.

When "Can't Buy Me Love" reached number 1, on 4 April 1964, the Beatles held the entire top five in the Hot 100, the next positions being filled by "Twist and Shout", "She Loves You", "I Want to Hold Your Hand" and "Please Please Me", respectively. No other act has held the top five spots simultaneously.
To celebrate their success back in '64 we are running a series of 10 tournaments with $1,000 GTD each over the next 10 days – good luck at the tables!
10 titles in top 100:

#78 – Do You Want To Know A Secret
#75 – Roll Over Beethoven
#71 – All My Loving
#50 – From Me To You
#27 – Can't Buy Me Love
#26 – I Saw Her Standing There
#4 – Please Please Me
#3 – Twist And Shout
#2 – I Want To Hold Your Hand
#1 – She Loves You
Tournament details:
Open the poker software (download version or instant play), go to the lobby and buy in directly to our Beatlemania tournaments or play the related satellites - good luck!
Beatlemania - daily from March 23rd to April 1st
Beatlemania satellites
1 ticket to final guaranteed
Texas Hold'em NL
daily, starting at: 11:15 pm EST
(4:15 pm CET)
buy-in: $1 + $0.10
Beatlemania $1,000 GTD
Texas Hold'em NL
daily, starting at: 5:15 pm EST
(10:15 pm CET)
buy-in: $15 + $1.50