2 for 1 Tournament Ticket Special
2 for 1 Tournament Ticket Special
Play 2 tournaments and enter the third one for free!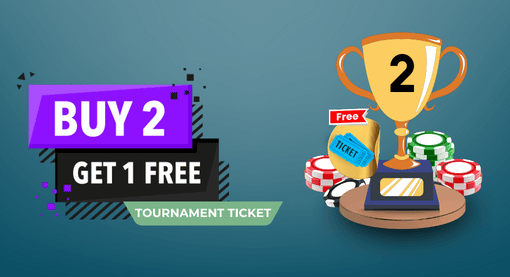 Here is what we have to offer:
Simply play any two (2) Cash tournaemnts and/or Cash re-entries in the dedicated buy-in ranges during the promotion period, December 4th to 10th. And for your dedication, we'll reward you with a FREE tournament ticket for the same buy-in range!
Sounds simple, right? You can earn up to Three (3) free tickets for each buy-in range during the promotion period.
What are the buy-in ranges?
$2.20:
$50 GTD – Double Chance
Progressive Bounty $60 GTD
Progressive Bounty $80 GTD, and more!
$6.60: 
$250 GTD Omaha HiLo
$400 GTD Deepstack
Friday Superstack $400 GTD
Virgo Superstack $750 GTD, and many more!
How to Participate?
Easy, all you need to do is to play any two (2) Cash tournaemnts and/or Cash re-entries in the dedicated buy-in ranges to completion during the promotion period (December 4th to 10th) to qualify for a free ticket.
How to use your ticket?
Upon completing the second Cash entry in your chosen tournament range, an automated e-mail will land in your inbox, informing you about your well-deserved free ticket. Your reward will be automatically added to your Juicy Stakes account after the tournament in which you have made your second cash entry/re-entry has ended and all prizes have been paid.
To locate your free ticket, just open the poker software and click on the 'Lobby' tab. Then choose 'My Tournaments' and in the lower section, called 'Tournaments you have a ticket for', you will now see all available tournaments where you can buy in for free.
Take advantage of the free offer, redeem your limited reload bonus now!
Bonus Code: THANKSGIVING
Bonus Amount: 200% up to $300
Minimum Deposit: $25
Duration: November 19th to 30th
Terms and Conditions:
Only available to users of legal gambling age. Gamble responsibly.
Juicy Stakes employees and their immediate family members, the Horizon Poker Network and its associated companies are not eligible to take part in the Promotion.
Juicy Stakes Poker reserves the right to alter, modify or terminate the Promotion and/or these Terms at any time, without notice (written or verbal) where it is reasonable to do so or for reasons beyond the Promoter's control. The Promoter does not accept any responsibility or liability for any late or undelivered entries or registrations, notifications or communications or for any form of technical failure, error, malfunction or difficulty or for any other event beyond its reasonable control that may cause the operation of the promotion to be disrupted, unavailable or incorrect.
The 2+1 promotion peridod starts Monday, December 4th at 00.00 ET/05.00 GMT and ends at 23:59ET / 04.59 GMT on Sunday December 10th ET/Monday 27th GMT
Users who complete two CASH entries and/or CASH re-entries for the aforementioned buy-in ranges within the promo period will be awarded with a free ticket for the same buy-in range.
The maximum amount of tickets a user can receive for each buy-in range within the promotion period is THREE.
Free tickets will be awarded only when the tournament in which the second CASH entry is purchased runs to completion.
For example, I enter a $2 tournament with cash. The next day I enter another $2 tournament. My free ticket will be awarded when that second tournament has ended.
If I make two or more entries in the same tournament using cash, my free ticket will be awarded when that tournament has run to completion.
In the event I make enough purchases in the same tournament to warrant the award of multiple tickets, then all of those tickets will be credited when that tournament has run to completion.
Tournaments that had been cancelled (not enough entrants, technical issues, etc) do not count as being valid for the 2+1 promotion.
Please note that tickets awarded may be used for entering and re-entering tournaments but cannot be used to purchase rebuys or addons in R&A tournaments.
Juicy Stakes Poker management decisions are final!