New Game Viking Voyage!
Viking Voyage
Join the Viking King and his seafaring warriors in an epic adventure in or new slot game by Betsoft!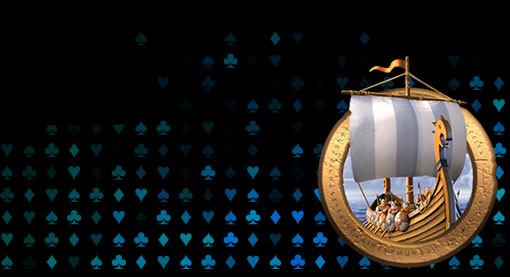 Journeying from Scandinavia during the eighth to eleventh century, Vikings became notorious for their brutal campaigns throughout the medieval world, so much so that the legend of the Viking berserker lives on to this very day.  Vikings were also famous for their craftsmanship; some consider them the best ship builders of their time. They would use these amazing ships to take them all over the world!
This amazing slot game is a 5-reel Always Pay Slot that offers a free-spin feature, a 'double or nothing' mini-game and a wild multiplier.
The free-spin feature offered in this game is really special and something our players are sure to love. The free-spin symbol is represented by a Viking Longboat, and all that needs to happen to be awarded these free spins is for the symbol to appear on reels 1 and 5. Talk about easy!
This slot also features one of Betsoft's most popular functions, the feature buy-in. This feature allows players to trigger free spins at any time while playing for a small cost. This feature goes hand in hand with the Bonus Buy Coin symbol. Once this special symbol appears it reduces the cost of buying free spins and if enough of this symbol appears at once, it can reduce the cost of the free spins to zero.
And how could we forget the Wild Feature. Once three Viking King Symbols appear in a vertical row, he will lock one reel and shake the other reels to spin! If during these re-spins the Golden King symbol appears again in a full-height stack, he will lock another reel and trigger a re-spin on the remaining reels.
This awesome slot is live in our casino and definitely worth giving a try!