New Game Stacked
Stacked
Get ready for the ultimate magic show in our new Betsoft slot Stacked!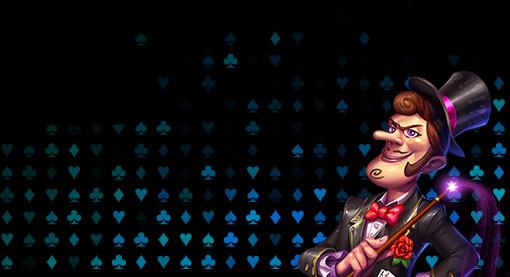 Our newest slot by Betsoft will have our players waiting on the edge of their seats to see what trick the magician will pull off!
A magician is a person who performs magic tricks and illusions for entertainment, but some say they have actual magical powers and in this 4-reel, 20-payline slot game you will get to see if it's really magic or just sleight of hand. You will enjoy the performance as the magician fixes the reels in your favor and lets you peer into the mystery boxes. And just when you think the show is over, the magician will have one more secret trick hidden up his sleeve!
In the Mystery Box feature if you get 3 or more Mystery Box wild symbols on any of the reels, 5 free spins will be awarded! After selecting a number of locations on the reels, the free-spins mode will begin! The number of locations is equal to the number of wild symbols that triggered the free spins.
And what is a magic show without the Slight of Hand feature? When no one is looking, there is a chance for the magician to "nudge" a reel up or down to potentially award you a win!
Another feature you are sure to love is the Fix the Trick feature. The magician has a chance to fix the reels in your favor after any spin without wins. Up to 8 random symbols from the reels are chosen by the magician, turning them into a stack worth 3x the value of the symbols! If the wild symbol is chosen, it will pay out as much as the highest value symbol.
Finally, the magician has kept his most prized trick to end the show - the Secret Trick feature. When this trick is performed, a random number of face-down mystery cards are added to the reels! Once all the reels have stopped, the face-down cards are magically turned over to reveal the same symbol!
Keep your eyes on the magician or you might miss the launch of our new game! This fabulous slot will be here on the 18th of March