New Game Golden Horns
Golden Horns
Celebrate the Year of the Ox in our new Betsoft slot Golden Horns!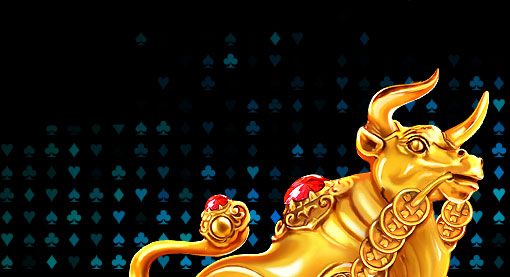 Our newest slot by Betsoft will take our players on the enchanted path of the Golden Ox where unimaginable luck and copious treasures await.
According to Chinese mythology, the original Ox lived in Heaven among the stars. One day, while looking down on the starving people on Earth, the Emperor of Heaven felt pity and wished to help them. So he sent the ox with a message to the people saying if they worked hard they would be fed every day, but the ox got the message confused and told the people they would be fed three times a day. The emperor knew the people could not do this on their own so he commanded the ox to stay with man to help them work. From that day forward the ox has been helping man to achieve bountiful harvests!
Golden Horns is a 5-Reel, 4-row fast-paced slot with amazing graphics and a very festive soundtrack. This game comes with some features that are just perfect for the holidays! The Ornament Bombs will introduce a 10-round progression system that you will love. Look out for the Holiday Robber symbol as something special happens every time he appears. Then go for a ride with the Santa's Sleigh feature, we are sure you will end up with something great!
Golden Horns is the newest addition to the Red Dragon Games and is the only 3-reel, single-payline slot among them, but don't let the 3 lines deter you, you will be in for enormous wins with all the generous multipliers this game offers. So be sure to look out for the Charge of the Wild Ox feature for those big wins!
With the Change of the Wild Ox feature all you have to do is get 3x Wild Ox Symbols on the reels and you can win 288x your stake! Combine 3x WILD OX symbols and a random multiplier between 2x and 88x will be applied to that win!
Finally, we have the Santa's Sleigh feature. When 3 or more of the Santa's Sleigh symbols appear on the reels you will be awarded 15 free spins. These free spins are little different from those you know from other games. In this game your free spins are played with 5 to 10 wild symbols scattered on the reels and with each spin the wilds move, giving you a chance for an epic win on your spins.
Get ready for the Year of the Ox! This awesome new slot will be with us on the 14th of January!