New Game Dragon & Phoenix
Dragon & Phoenix
Experience the majesty of the Dragon and Phoenix in our newest Betsoft slot game!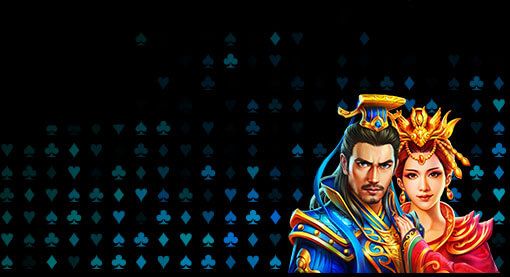 Our newest slot by Betsoft will take our players into the royal court of the Dragon and the Phoenix where wealth and prosperity are just around the corner!
This awesome slot by Betsoft is based on the Chinese folktale of the Dragon and the Phoenix. The story tells of a mighty dragon and a beautiful phoenix that live on opposite sides of a magical river. One day they met on an island in the river and found a shiny stone. The dragon washed the stone clean and the phoenix polished it until it became a radiant pearl. The light of the pearl was so beautiful it tempted the Queen of Heaven and that night she sent her guards to steal it.
The next morning the dragon and phoenix searched endlessly for the pearl until they saw it shining in the sky. They flew up to retrieve it, but in the commotion the pearl fell from the sky and became a lake on the land below. The dragon and phoenix built their castles next to the lake in the guise of mountains so that they could watch over their treasure and legend has it they still are to this day.
Dragon & Phoenix is a 5x3 video slot game that embodies this amazing story. This game comes with some features that will have you searching for your own treasure just like these majestic beasts!
ROYAL COUPLE WILDS takes a page right out of this story. Search for the Wilds on reels 2 to 5 just like the dragon and phoenix searched for their pearl for a full-reel wild adventure!
Another feature that you are sure to love is the MONEY TREE SCATTERS. Once 3 or more money trees appear anywhere on the reels, you will be awarded an instant win and to make thing even better you will can also be rewarded up to 15 Free spins!
This game provides a feast of colors and sounds for your senses, as well as an entertaining and exciting gaming experience. Get ready to enter the royal court of these divine creatures! This slot will be with us on the 3rd of December!