New Game Caishen's Arrival!
Caishen's Arrival
Be blessed with luck by the legendary Caishen in our new Betsoft slot Caishen's Arrival!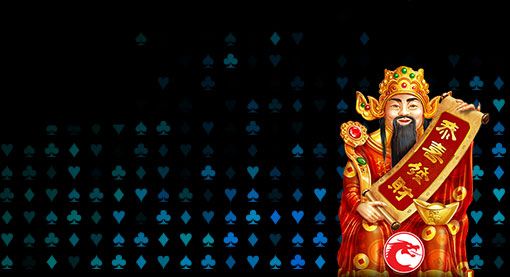 Our newest slot by Betsoft will take our players on a journey with Caishen into a land of fortune where only blessings and bounty await!
Caishen is a mythological figure and one of the most popular deities that is worshiped in Taoism and Chinese folk religion as the God of wealth. He is depicted as a man dressed in traditional Chinese royal attire, riding a black tiger and holding a golden rod. Legend has it that this rod has the power to turn anything it touches into pure gold! Caishen's name is often invoked during the Chinese New Year with hopes of making the New Year prosperous.
Caishen's Arrival is a 25-payline, 5-reel slot game that is sure to blow you away. This game comes with full-reel wild respins, awesome Red Ticket free-spin bonus rounds and an amazing coin purse scatter that casino players will love.
Experience the blessings of Caishen with the awesome Caishen Wild. Not only can this symbol replace other symbols in the game, but if you stack 3 or more portrait symbols on a reel, a full-reel wild respin will take place. This feature can give you some big wins!
Red is seen as the national color of China and is deeply rooted in Chinese culture. In Chinese culture red represents power, wealth and most importantly good luck and in this game you can watch your luck change with the lucky Red Ticket. Once a Red Ticket appears on the first and last reels it will trigger a free-spin bonus round.
Caishen is the God of wealth, but to be more specific he is the God of money. If you can find 3 or more of Caishen's sacred Coin Purse Scatters on any of the reels you will be awarded a cash prize!
Get ready to enter a world of wealth and blessings! This fortune-filled slot is now here, so get ready to be blessed by Caishen!