New Game Back to Venus
Back to Venus
The plants are here and they are ready to take you to our new slot by Betsoft Back to Venus!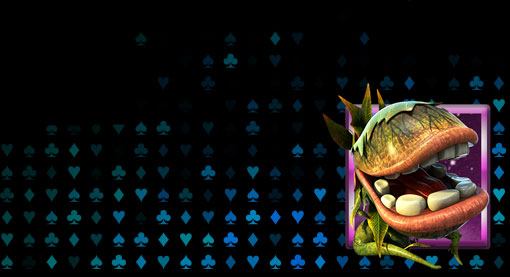 This awesome new slot is the updated version of "It Came From Venus". After failing in their first invasion, the plants are back and they are here to abduct you and take you back to Venus! This game is reminiscent of classic alien movies such as "Independence Day" and "Mars Attacks" where an unsuspecting world is taken by surprise by the alien threat but, in this game, the only thing you have to worry about are the big wins that will invade your account!
This charming slot game is a 5-reel, 20-payline video slot that comes with awesome features such as the Prickly, Sticky and Respin, the Flowering Wild Burst, the Sticky Asteroid Wilds and the Rocket Ship Free Spins.
The Prickly, Sticky and Respin feature is guaranteed to get your wins on a roll. With this feature the game will choose a symbol to be sticky at random, but here is what makes this feature special: The reels will continue to spin until you get a win from the sticky symbol. Now that is out of this world!
Next we have the Sticky Asteroid Wilds, another great feature to help you get those big wins. Once the Sticky Asteroid symbol appears on the reels it will remain sticky for two whole spins, doubling your chances to get a big win.
Then we have the Flowering Wild Burst. For this feature all that needs to happen is for the Flowering Wild symbol to appear, the reels will then light up and you will be given a free respin, plus your chances of receiving a Sticky Asteroid symbol will be significantly increased. This feature will have you jumping over the moon.
Finally, we have the Rocket Ship Free Spins. Free spins are always a popular feature in any game, however this game gives you a little something extra. Once 3 Rocket symbols appear on the reels you will be awarded 10 free spins. However, if you get 4 Rocket symbols, not only will you receive 10 free spins, but you will also receive a chance for multiplier wilds! Now that's free spins done right! This great slot is now live. The date is set, you know the enemy, now get ready for the invasion!