Sugar Pop 2
New Betsoft Game
It's finally here, the updated version to our popular Sugar Pop slot by Betsoft.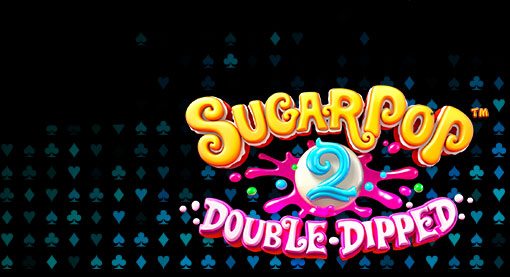 Betsoft has retained the exploding candies and levels in the original Sugar Pop Slot but added lots of new ways to win. Sugar Pop 2 has cluster wins, wins are not based on pay-lines like most slot games but on clusters of 4 or more continuous symbols. Once the cluster has been triggered, it explodes allowing new symbols to drop down and new symbols fill the spaces which can then trigger another cluster win, this continues until all cluster wins are triggered.
If you trigger a cluster win of 5 or more symbols, the cluster will generate a wild symbol called the 'CANDY WILD' which is left behind after the winning cluster explodes. This symbol substitutes for all symbols except of Free spin and level-up symbols.

There is also the 'CANDY BOMB' which is triggered when you have 5 or more winning clusters in a single spin. The bomb appears and sits below the level-up meter until all cluster wins are displayed. It then moves to the play reels and explodes destroying the appropriate number of symbols and awarding a cash prize. Additional symbols will then cascade on the board to replace those destroyed by the candy and possibly trigger further winning clusters.

Like Sugar Pop, Sugar Pop 2 also has levels. To level up on Sugar Pop 2, the game has special level up symbols. Collect these symbols to level up, and the paytable indicates how many symbols you need to move up each level. Generally it increases by 2 symbols each level. At the end of each level you are awarded cash credits and you unlock a new special candy.

The special candy is played when you receive a surprise egg on the board, after any cluster wins have been awarded. The egg breaks open revealing any one of the special candies that have been unlocked.

There are also Free Spin symbols, which award Free Spins for clusters of 4 or more symbols.

As with all Betsoft slots, players can choose from a coin-size ranging from $0.01 to $1. To calculate how many credits you have, just divide your balance by the chosen coin-size. With $1000 balance and coin-size of $0.01, you have 100,000 in credits versus with a $1 coin size you have 1000 credits. This is all calculated automatically for you and shown at the bottom of the reels along with the bet amount.

Another classic Betsoft feature is the Double Up game option. Just press the double up button after any standard win to gamble your winnings. This option is not available after free spins, candy bomb or level up event. You can gamble 50% or all your winnings and as many times as you wish.

All in all I think this is a great addition to the original Sugar Pop game, with lots of opportunities for players to maximise their winnings. I look forward to more games in this original series.