Juicy Stakes Introduces Multi-Buy tournaments!
Juicy Stakes Introduces Multi-Buy tournaments!
Juicy Stakes just launched Multi-Buy tournaments! Register now and don't miss out on the action!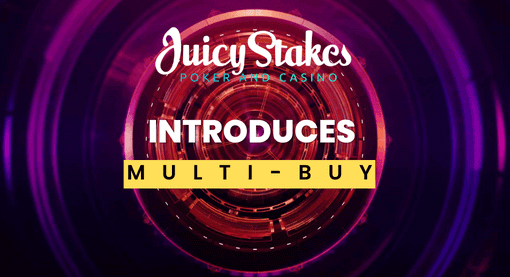 Multi-buy Tournaments
Unlimited rebuys sounds fun, right? Our new multi-buy tournaments give players the possibility to buy in to a tournament unlimited times!
Multi-buy Tournaments Summary
There are no antes at all in this format.
Players can purchase multiples of 500 chips anytime they wish.
If they purchase mid-hand, then the amount they requested will be added at the start of the next hand.
No cancelation of rebuy purchases in this format.
If a player loses all their chips and fails to rebuy within the allocated time, they are sat out but are still given an opportunity to rebuy.
If they still fail to rebuy, then they are eliminated.
As with the standard R&A format, there is no re-entry allowed.
If a player busts and fails to rebuy, or chooses to leave the tournament, then they are permanently out and may not get back in.
When the add-on break arrives, the player can choose to do both, rebuy and add on.
If a player wants to do both, the rebuy must be done first and the add on last. Should a player do the add on first, then all rebuy opportunities are eliminated.
Take advantage of multi-entry tournaments to boost your winnings and enjoy the added thrill of strategic gameplay.