Chilli Pop
Game review
Try out one of our most popular slot games available via Betsoft.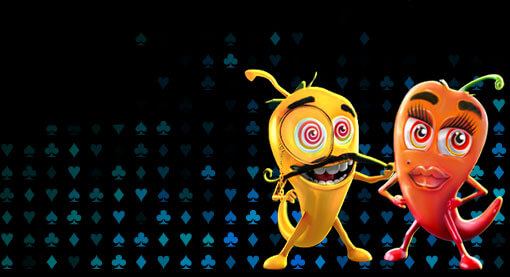 Chilli Pop is a fast paced 5 Cascading Reel Video Slot, with amazing Graphics, entertaining symbols and festive Mariachi music.
This game pays on 3 clusters of symbols or more so players try to assemble the perfect combination of tomatoes, onions, garlic, red, yellow, and green peppers to gain the highest paying recipe. The stuffed piñata symbol acts as the wild symbol and will substitute for any other basic symbol.
This game also includes a stacked multiplier. When the piñata symbol appears, the payout on winning clusters is multiplied by 2 and with every additional piñata symbol the multiplier goes up by one. You will literally watch your winnings double and triple right before your eyes. Also, there is the double up feature. You are given the chance to do a coin flip where you wager half or all your winnings from your last winning spin and if you choose correctly your winnings are instantly doubled!

Let's not forget the free spins and mule trail. Once three of more mule symbols appear free spins are triggered. Up to 15 Mule symbols have the chance of appearing giving you a max of 26 free spins. During the free spins the appearance of another mule symbol does not re-trigger the free spins but instead activates the mule trail. This feature expands the grid giving you the chance to earn bigger prizes! The grid can go from 5x3 reels all the way to 8x8.
This game is already a favorite of the casino and is no doubt worth giving a try.