Carnaval Forever is here!
Carnaval Forever
Join the greatest show on earth in our newest slot game by Betsoft!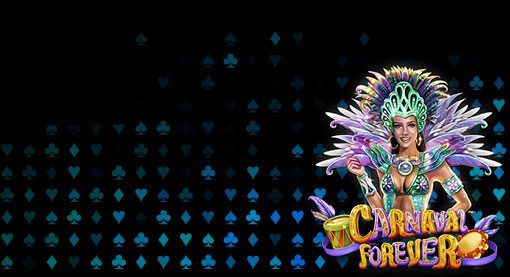 Carnaval is defined as a cultural festival involving processions, music, dancing, costumes and the use of masquerade. Carnaval is also defined as a traveling funfair. Most countries that celebrate carnaval only do it once year, so when it comes around they make the most of the experience. Now you can have this experience every day of the year right at home with our newest game by Betsoft, Carnaval Forever!

Carnaval is known as the greatest show on earth and Carnaval Forever comes as close as possible to giving you that very experience. The background has shining lights and is full of colorful feathers just like a carnaval costume. The background music is the sound of Samba and it will transport you right into the heart of the party!

Carnaval Forever is a 5-reel, 10 pay-line Video slot that captures the very atmosphere of this amazing festival. This game also has all the features you're used to and so much more!

This slot offers you a Wild feature, where the wild symbol can substitute any other symbol except for the Carnaval Queen and the Bonus Buy Coin. Once the payout for the wild is more than you would have received with the other symbols, your account will be credited accordingly.
Carnaval Forever also has a Bonus Buy Coin symbol and a Bonus Buy-feature that work hand in hand for some big wins! The Bonus Buy-feature allows you to buy free spins at any time during the game, but what makes this special is that for every Bonus Buy Coin symbol on the reels the cost to buy the free spins is reduced!
And let's not forget the star of the show, the gorgeous Carnival Queen. When she makes her way through the crowd, free spins always follow. 5 free spins are awarded once three or more Carnaval Queen symbols appear, and what make things even better is that for every Carnaval Queen symbol that appears during the free spins, you get two additional free spins!

This new slot game goes live next week! Be the first to try this amazing game!